ERM Fibers are Certified Post Consumer PET:
Intertek's R-PET Management System Certification (MSC) enables manufacturers of R-PET products to prove their abilities to manufacture these products, and inspects for appropriate sourcing, production and tracing methods.
Scientific Certification Systems (SCS) provides Recycled Content certification for a wide variety of products in accordance with U.S. Federal Trade Commission to help manufacturers make credible claims about their products.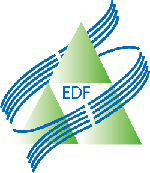 The Environment and Development Foundation ("EDF") works and cooperates closely with domestic and overseas environmental groups in pursuing environmental initiatives.